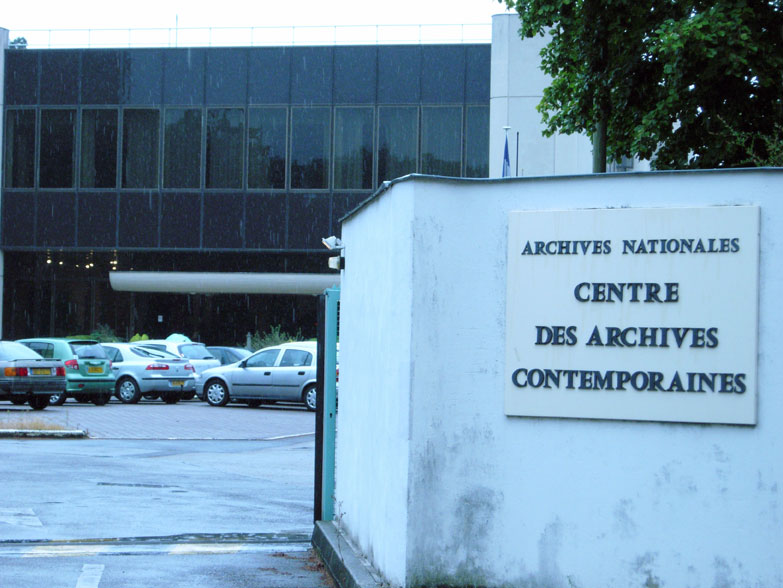 The Fontainebleau Archive:

In researching for documentaries, the team at Jewish Educational Media (JEM) regularly uncovers little-known details of the Lubavitcher Rebbe's life. One such recent discovery will be the focus of an enlightening feature in JEM's upcoming Early Years IV film.
"About three months ago Professor Shyman called and told me she'd found a pair of documents of considerable interest to us" says Early Years producer Yechiel Cagen. Shyman, an American researcher in France, has helped JEM locate archived documents since work on their Early Years documentary series began five years ago.
Watching her comb through boxes in the French National Archive looking for the name 'Schneerson' and other relevant terms, a curator suggested that Shyman visit the Fontainebleau Archive outside of the city. There, she discovered a French citizenship application by the Rebbe, Rabbi Menachem M. Schneerson, of righteous memory, and a French ID card application from his wife, Chaya Mushka.
       
       ID card application of Chaya        Mushka Schneerson

"These findings have added a new dimension to the process of piecing together the Rebbe's pre-War and wartime experiences," explains Cagen. "Knowing that the Rebbe applied to become a French citizen has allowed us to explore a new avenue of research for the Early Years project."
Like the people of their generation, a tragic story of displacement accompanied the documents for decades. After the German invasion of France in 1941, the French archives were looted and transferred to Germany. In 1945, the papers were transported – with millions of others – to Soviet-Russia, just as similar trains brought Jewish survivors towards Poland, France and Czechoslovakia. For nearly fifty years, the files remained hidden in Moscow's secret Osoby Archive. With the fall of Communism in 1992, diplomatic intervention brought them back to France.
The couple never became French citizens. However, after the unlikely journey, survival, and eventual discovery, the two paper "survivors" will be presented in the Early Years documentary. "We have turned to additional sources to interview, and we have an angle on the saga that was not previously known," says Cagen.
       
       Citizenship application of the Rebbe
       Rabbi Menachem M. Schneerson

Since her find, Shyman has continued to search both the National and Fontainebleau archives for information that could help complete the picture of the Rebbe's and Rebbetzin's time in Paris.
The Early Years IV will debut in fall, 2008. Until then, says JEM's Cagen, "The Early Years research team in New York and abroad have gained another thread of information to follow about the Rebbe's life."